Let's go see the preparation!
For pasta
We prepare the pastry by putting together flour, semola and eggs until we get a homogeneous dough. Let stand for ten minutes and make very thin sheets of pasta.
For the filling
Cook, over a gentle heat, for about 5 minutes, the asparagus cut into briquettes, in a tablespoon of EVO oil, the half-onion finely chopped, the parsley, salt and a little black pepper.
Boil and peel the potatoes and add them to the asparagus and parmesan in a mixer.
Cut the bacon into thin strips.
On the pastry, put a hearty teaspoon of the asparagus dough, add the bacon, cover with the other puff pastry and close with the crescent shape.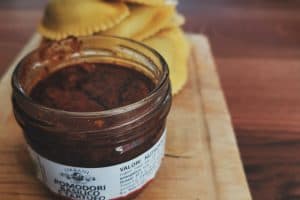 For the preparation of the dish
While the water goes to a boil, add finely chopped onion to a tablespoon of EVO oil and let it brown.

Pour the pasta into salted water and a drop of oil so as not to make it stick and wait for the 3-4 minutes necessary for cooking. Pour into the pan and let go for a couple of minutes with the oil and onion, then add the Tomato, Basil and Truffle sauce and let it mix for about a minute.
Plate, add a round of black truffle UNICO oil, a grated podolic caciocavallo not too seasoned and garnish with a fresh basil leaf.